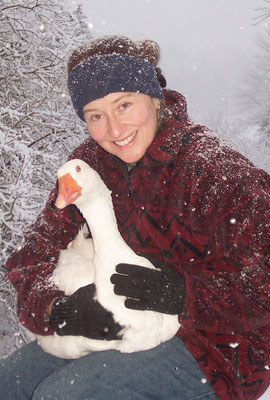 I love animals and their relationship to us and to each other. The images I paint and sculpt come from experiences I've had right here in our backyard.
I am surrounded by woods and live beside an old granite quarry. A sheltered cove at the head of Blue Hill Bay in Maine, is at our doorstep. I am visited regularly by deer, fox, crows, raccoons, and occasionally a bobcat, bear, hawk and owls. All manner of creatures come to see what our chickens and geese have left from their supper.
I don't have to look far to see the relationships that develop between these creatures. The crows fly just above the fox, following him through the neighborhood as he makes his rounds to see what is new in the chicken yard, and to poke at the compost bin. The crows, look for any leftovers the fox leaves behind.
It doesn't seem to matter where I am, the sight of an animal, near or far calls my attention. They are consistently in my dreams and daily thoughts. It is a celebration of their lives with us that I wish to share. I am compelled to paint them, sculpt them and love them.
Wholesale Orders
I sell my cards in many stores through out New England and beyond. If you are interested in a wholesale order please email me. There is a $50.00 min.
Please register, then call and we will set up the wholesale account. New customers are required to pay by credit card, (PayPal). Customers who have a history with us may pay Net 30 days. Use pay by check at checkout.
We would like to mention your shop on social media, please let us know if that is ok. We'd love it if you would like our Facebook page as well!
Rebekah Raye Cards
P.O. Box 633
Blue Hill, MEÂ  04614
207-374-5174